By admin @ August 20, 2010 at 8:51pm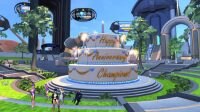 Executive Producer Shannon Posniewski checks in with this month's state of the game.
Hello Champions!
A quick update on what's going on at Champs HQ.
Summer Update Live August 24
As most of you know, we've been focused on the Summer Update for the past month or so. The final candidate is now on the test server and is scheduled to go live on August 24! Right now it's looking good to go. This update has a lot of quality of life things in it: Supergroup improvements, an updated Renaissance Center, many new emotes, a harder difficulty setting, costume unlock fixes, MOAR TIGHTS and much more.
You may remember that we were planning on doing a big pet update with this release. The feedback from the test server was that the changes didn't make pets feel better or more fun or more interesting. So, we decided to take the pet changes out for this update. Once the Summer Update is live, we'll have something new to try on the test server. We expect that the new pet changes will be in the next update.
As always, check out the patch notes for the complete list.
Happy Anniversary!
In addition, September 1 is a special day for Champions Online: It's our first anniversary! In celebration, we're going to be holding a party in Millennium City from August 27 through September 6 – when the celebration ends with a bang. Stop by the new Renaissance Center to get gifts (costume pieces, water balloons, party bombs and more!) and have some fun with your fellow heroes. Let's hope Destroyer doesn't show up!
Also, if you have friends who would like to try Champions Online, they can play from September 1 to September 7 (at 3:00 a.m. Pacific) for free! (This is an unrestricted trial, not a demo.)
We'll be running a couple of special events during the celebration as well, which we'll announce soon.
The Demonflame
Near the end of September (or early October) is our next adventure pack: The Demonflame. Like all adventure packs, this is a complete story with new areas and villains that will take two to three hours to experience. You can take any size team at any level from 11 to 40 and go on the adventure. The plot revolves around the return of Luther Black and his attempt to transform into an omnipotent (and evil) god. You travel to the strange Qliphothic realm to investigate and defeat Black's latest plot.
In response to feedback we've received from Serpent Lantern, we've revisited some parts of this adventure to make sure that it doesn't feel repetitive. We also learned some lessons about how to help people along in the story and how to keep the team together, which we've rolled into Demonflame. It'll be up on the test server very soon and we can't wait to hear what you think!
In addition, we have some updates to Nemeses on deck. We've added Celestial, Bestial, and Infernal power framework choices to Nemeses. Their minions also get some fleshing out with Electricity, Fire, Ice, and Supernatural powers. We've also got some new wardrobe choices for the minions: ice, fire, and electricity-flavored tights; werewolves; and vampires. Here's what a the ice guys and werewolves look like:
Pet Update
As mentioned above, we're iterating on the pet changes in Demonflame as well. Ame will be following through on this and will be working with you through the PTS forum. It's a secret that I'm not supposed to tell you, but we think we have found a way that we can let you choose what your pet looks like from a list of costumes. We can't let you tailor them or have complete arbitrary choices, but we think we can give you some options. But, shhh, I didn't say anything.
If you like pets, please hop in and give check out the changes once a Demonflame build is up (in a week or so).
What's Next?
We have several things we're looking at post-Demonflame besides the next adventure pack. We don't have any firm commitments or dates on anything yet, and if something isn't mentioned here that doesn't mean we aren't looking at it. I figured, though, that I'd give you a glimpse into what we're exploring.
Love for Westside: Westside is pretty gloomy and lacks story cohesion. We'd like to tighten up Westside so it flows well, has exciting conclusions to its story lines and is more pleasant to play in.
Scaling instances: Make all instances scale to team size like the adventure packs do.
Difficulty slider: Push the effects of the slider into more of the content. Today, it's pretty limited.
Love for Lemuria: Lemuria is pretty, but it's hard to figure out how far away bad guys are. It also lacks a hub and is hard to get to. We'd like to hook it into Millennium City, give it a hub and spend some time fiddling with ways figure out when you're in range.
New PvP Arena
Again, all those are in the exploratory stage. No promises!
Once again, thanks for bringing Champions Online to its first anniversary! See you in Ren Center!
-poz


Link to the forum post