By admin @ November 9, 2010 at 8:52pm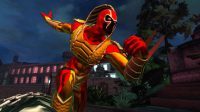 Have you read Part 1 of our Archetype rundown? It's a great place to start!
Here are the eight base Archetypes available to Gold Members and Silver Players in Champions Online: Free For All. The Archetypes stay pretty much within existing frameworks rather than crossing them. This is because the frameworks were built with comic themes in mind and thus already match certain heroic tropes. Also, we wanted the basic eight Archetypes to be your "meat-and-potatoes" sort of heroes. We made sure the classic DPS, tank and support characters (and their common blends) are clearly and obviously represented. As we add Archetypes, they'll get a bit more niche and specialized.
Besides the base Archetypes, we are constantly adding more specialized Archetypes. To learn about other Archetypes available free to Gold Members and for purchase by Silver Players, please visit the C-Store and click on the Powers/Archetypes tabs.
1
Throw Fire
Steady Shot
Reaper's Touch
Strafe
1
Firestrike
Assault Rifle
Reaper's Caress
Straight Shot
SS – 6
Recovery
Dexterity
Dexterity
Dexterity
6
Fireball
SMG Burst
Thunderbolt Lunge
Sonic Arrow
Passive – 8
Fire Form
Targeting Computer
Enlightened Warrior
Quarry
11
Firebreath
Pyre
Shotgun
Frag Grenade
Scything Blade
Torrent of Arrows
SS – 13
Endurance
Ego
Strength
Intelligence
Block – 14
Fire Shield
Retaliation
Parry
Retaliation
17
Conflagration
Smoke Grenade
Shuriken Throw
Smoke Bomb
Snap Shot
Focused Shot
22
Thermal Reverb
Killer Instinct
Swordsman Form
Hunter's Instinct
27
Immolation
Lock N Load
Dragon's Bite
Evasive Maneuvers
32
Heat Wave
Fire Snake
Gatling Gun
Rocket
Inexorable Tides
Masterful Dodge
Storm of Arrows
Gas Arrow
40
Flashfire
Sniper Rifle
Reaper's Embrace
Explosive Arrow

1
Clobber
Ice Shards
Psi Lash
Eldritch Bolts
1
Defensive Combo
Ice Blast
Ego Blast
Eldritch Blast
SS – 6
Strength
Endurance
Endurance
Intelligence
6
Mighty Leap
Ice Cage
Ego Sprites
Storm Sigil
Passive – 8
Defiance
Invulnerability
Radiant Aura
Primal Aura
11
Roomsweeper
Thunderclap
Frost Breath
Snow Storm
Psionic Healing
Empathic Healing
Piller of Poz
SS – 13
Constitution
Constitution
Presence
Presence
Block – 14
Retaliation
Ice Shield
Telekinetic Shield
Eldritch Shield
17
Demolish
Wall of Ice
Ego Sleep
Invocation of Vitality
Vala's Light
22
Aggressor
Shatter
Telepathic Reverb
Arcane Circle
27
Unbreakable
Unbreakable
Ego Hold
Skarn's Bane
32
Uppercut
Haymaker
Ice Barrier
Ice Burst
Summon Nightmare
Ego Storm
Ebon Sigils
Arcane Sigils
40
Shockwave
Avalanche
Mindful Reinforcement
Hex of Suffering
For the sake of example, we'll be focusing The Inferno, a ranged DPS hero who can naturally control or
perhaps is even composed of fire.
First note that there is a role associated with each Archetype. Archetypes' roles are fixed and cannot be changed on the fly. The Inferno is all about damage from a distance: He's an Avenger.
All Archetypes have a passive and block power. The rule is that the passive is earned at level eight and the block at level 14 for all Archetypes. (This rule won't stop us from breaking that rule if we think there's a particularly cool Archetype that requires it, however.)
We've aimed to make each of these Archetypes feel like they had a niche slightly smaller than that defined by their role. For example, The Inferno is very focused on AoE powers. While he doesn't feature any any new powers, we have made several new powers to fill out other Archetypes. These powers will of course be available within Frameworks to all free-form heroes.
Though it's plastered right up there, let us make clear that all this information is subject to change. We'll be watching the forums to see what you think. We think we've got something pretty good here, and can't wait to have you play them and give some feedback!