By admin @ May 13, 2011 at 7:00pm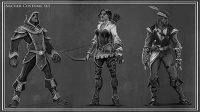 Hey Champs fans,
Checking in again for another look behind the scenes at more possibilities for an upcoming costume set.
This week I wanted to show off some ideas for a classic swashbuckling hero.
We've taken note of the response towards the weapons and gadgets incorporated in the Retro Sci-Fi and Pulp concepts, and I'm leaning towards packing in a themed weapon or two with certain costume sets in the future. With that in mind, I thought we'd explore some possibilities for themed bows and matching quivers.
All in all, this set should provide everything a merry man or woman needs when setting out to redistribute the wealth… or distribute some justice.
Thanks!
Brad Stokan
Lead Artist – Champions Online