By admin @ May 26, 2011 at 10:35pm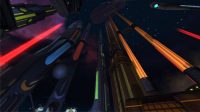 Champions Online Producer, Rob Overmeyer, checks in with answers to your questions in this month's Ask Cryptic!
Mac_daddy: Are we ever going to get powers that let us throw are weapons?
A: There are no plans at this time to make a framework around thrown weapons. There are some powers like "throwing knives" that you can unlock but none that use your weapon geo as the thrown object.
Mac_daddy: Are there any plans to work on supergrowth and shrink in to actual powers that work in combat?
A: We are looking into making items that support growth and shrinking in combat but the magnitude will most likely be less that the out of combat growth/shrink devices. We want to preserve the quality of our power FX and at some heights they just don't look good. Our current options are to adjust all the powers or limit/cap the change in height when in combat.
Dardove: Do you guys intend to fix the imbalance of loot between adventure pack and every other source of loot? Is it your intention that adventure packs to be the sole place to acquire worthwhile secondary upgrades?
A: In short yes. We have been talking about how to address some of the gear issues in Champs for some time. This latest pass on gear improvement is another step towards improving the rewards in Champs. Remember, updating the rewards for Champs cannot happen overnight. There is a lot that we need to consider, and, we are making progress towards better rewards that match the effort to gain them. An all-out overhaul of rewards just isn't practical at this time.
Our approach is one of targeted, positive improvements to the game. In the specific case of the AP gear we addressed an issue where the gear on Very Hard and Elite were the same. We also noticed the stats on that gear was inconsistent; as well as missing pieces for some stat combinations. We fixed those issues and improved the gear that was dropping. Demonflame used the same method of gear drops so when we addressed one AP we addressed them all. We will be addressing the other sources for high level rewards in the near future. Again, these changes will not happen immediately and we look forward to your continued, and awesome feedback on the PTS forums when we make the next update.
Dardove: Are the acclaim costs of pvp gear ever going to be looked into?
A: Absolutely. As we get through the rewards reviews we will be taking a look at the acclaim costs for the PvP gear as well as their stats and usefulness. We will be working with the PVP community for this portion of our rewards review.
Dardove: What lairs are on deck to be overhauled next?
A: We will be looking at all the Lairs in the order of appearance. Our hope is that we can review a lair each month and get lairs on the PvE Queue list as soon as possible. Up next will be Dr. D's Robot Factory followed by Telios Tower and the Burial Caves.
Spiritbrand: What can you tell us about the upcoming Comic Series?
A: Our first Comic Series is called Aftershock. I am not going to give the story away but I can give you some ideas about the size and rollout of the series. Aftershock has a total of 6 issues. The first issue is scheduled to release Wednesday June 1, 2011 and each subsequent issue in the series will be released each Wednesday of the following weeks. Each issue will be available to play following its debut along with any previous issues. You will need to complete any previous issue in the series before you can play the latest in the series. Aftershock will wrap up the first week of July and once the entire series is out it will be playable as a complete adventure. Each issue targets about 30 minutes of gameplay, however, that time can be affected by a number of factors.
Spiritbrand: Are there any plans for Power Replacers, maybe as part of the overall loot review?
A: Power replacers are a really tricky area. To be honest we would like to just unlock more weapon geos as costumes. There are power replace items that have useful bonuses just as there are power replacers that are only useful as costume/FX swaps. We don't have any solid plans to overhaul the power replacers or add any more in their current implementation. We do however acknowledge that we need to do something with them to make them better. This is something that we are discussing but have no timeline for right now.
Spiritbrand: What is the current thinking on fixing targeting? What of other long-standing bugs?
A: We are currently looking at targeting and following the threads on the issues. One of the reports we are looking at right now is the issue with tab targeting critters in front of you. It is apparent that there is something going on there and it can be very frustrating. This is very high on our list of issues to address (the top) and we hope to address this as soon as possible.
Roxstar: So I've been hearing from Tumerboy that the personal bases are going to have options…
A: Yes, Hideouts will have customization options and the more hideouts you have of a particular type the more options open up. Let's use the Hideout Type Sanctum for example: When you get the Arcane Sanctum hideout for your Sorcerer you will have a complete and functional hideout with some options to change the look of the hideout. When you pick up the Druidic Sanctum hideout you will have another complete hideout that is themed and has some options as well. Being of the same "Type" of hideout, they have interchangeable parts and options that you can mix and match if you like. Say you like the details of the walls in the Arcane Sanctum but the statues in the Druidic Sanctum. You can use those pieces to customize the look of your hideout. As more Sanctum hideouts are released you can get even more customization options for your hideout!
PsionCCC: Do you have any plans to fix the cloth physics problems with coat tails?
A: We have addressed the issue in most cases but may not have hit them all (case in point). The issue is with the collision on the individual pieces. If you submit a bug report about the specific piece we will take a look at it.
Realsorceror: Will we get more equalization in Male/Female costume parts, especially in pieces like the Psionic Helmet (which appears on male NPCs but can't be used by male players) or Cowl Tight?
A: We are looking at some of these cases and can add some of the pieces to the costume options at some point in the future. There is always going to be some pieces that are restricted. In most cases it has to do with clipping or weighting of the geo. Adding these pieces to the costume options is not something we want to do at this time. The unique head piece for armadillo for example cannot be unlocked for players because it would not work with all the scale options available to players.
Realsorceror: Will the gender specific costumes and emotes become standard from here on out?
A: I think it is safe to say there will always be some gender specific costumes and emotes. We have a lot of customization options for characters and a good amount of options that are not gender specific but there are cases where there are. A good example is the Harajuku costume set that will be released soon. These pieces are for females only. The decision to have female only costume pieces in the Harajuku set is not to limit the options of male characters but to offer a complete look for female characters. There are some increases to development time for a costume set to have all interchangeable parts for Male and Female, but the real reason is the creation and presentation of a complete look of an outfit from concept to launch.
Realsorceror: Why aren't the unlockable perk faction emblems usable on all the other emblem slots (eg chest, back, belt, etc). Currently they are only available on capes, which really limits their use.
A: This issue here is that these are not emblems at all. These are cape patterns that were created specifically for Perk rewards. It isn't impossible to get them added as emblems at some point.
DigitalShaman: Any word on team vs. team duels?
A: There are no updates for this feature. It remains something we want to do for you but it's not a high priority item at this time.
DigitalShaman: Please can we have some kind of word on a 'Foundry' for Champions.
A: At this time there are no solid dates for The Foundry for Champions Online. There are a few Foundry features I would like to see get wrapped up before we start porting The Foundry to Champs. Getting The Foundry working in Champs is actually easier than getting Champs ready for The Foundry. When we have a solid plan or an update we will be sure to let you know.
Galeforce: Why has the slow fall bug with teleport been repeatedly ignored?
A: The Champs QA team has been working very hard to get your bug reports and tickets processed and out to the team. Issues are not ignored but an issue can be classed or prioritized lower than another and that may be the case with the Teleport Float issue. Daily, the QA group processes the live tickets and starts working right away to verify the issues. Once an issue is verified it is given a severity based on a number of criteria and assigned to the proper Dev. Issues are generally addressed in priority order and it is not impossible for a new issue to get a higher priority than an existing issue. We do our best to address all the issues but major issues (based on our criteria) are usually addressed first.
Targeting is a different type of issue. This is an ongoing issue that we are looking at. Looking at the code we can see no changes to behavior but in game there is something going on. This has not been given a low priority. It just has a longer turnaround.
Avalanche: Will silvers have to pay for the comic series?
A: The Comic Series' will not require a player to purchase it to play. The content will be available for all players.
Avalanche: Will you ever release a weapons pack for Claws, Archery and Heavy Weapons?
A: Yes we will, and we want to make other weapons too! We are currently working on a weapon pack but it has no release date or details I can share at this time. Following that weapon pack we are working on weapon pack 2. I wouldn't be too surprised if you see some concept art for the weapon packs show up in Concepts and Costumes sometime soon.
Avalanche: Are there any new travel powers planned aside from the new travel skin coming out soon? Jetpacks, you know you want to do it…
A: Funny you mention Jet Packs. Phoenix Flight was our first travel power upgrade that removed a back piece and added another. TBH, we didn't know how you would feel about it. A Jet Pack would be set up in the same sort of way. When you activate the power a jet pack would appear and your previous back piece would be replaced. I think themed travel power upgrades that swap geo are pretty cool and there is a lot we can do with this!
Avalanche: VEHICLE TRANSFORMATION DEVICE, PLEASE
A: (Warning the following is highly theoretical!) We can do it but there is one thing we need to limit…. powers. For the most part, bolt type powers seem to be a non-issue but melee powers are a different beast. Take the new chopper in Resistance. We could make a travel power type transformation device that allows you to turn into "you" flying the chopper but as soon as you try to use a melee power all bets are off and it looks no good. However, if we treat this like a "Become Chopper" type device, and grant you a set of powers specific to that mode of transportation, then we open up some doors. Keep in mind that all this is theoretical and nothing is set in stone.
gandales: Any news about nemesis system review and expansion?
A: There is no news since the last Ask Cryptic. We are still discussing the best way to expand the system in the long term. In the shorter term we are looking at what we can do to offer more Nemesis content. Nothing is scheduled at this time but the current ideas are along the lines of more missions or more relevant encounters with your nemesis.
gandales: Is there any order table for framework reviews?
A: We do have an order that we would like to stick to but we are pretty flexible. The current order is as follows. TK, Force, Unarmed, Infernal, Power Armor, Celestial, Dual Blades, and then Claws. Keep in mind this can change. If you have some feedback on this let Akinos know.
VisionStorm: Will there be a revision of how certain female "Chest Wear" pieces are applied so that we can wear them in place of skin patterns rather than be forced to wear both, a Chest Wear piece and a skin pattern (i.e. bra, bikini, sport tops, etc.) that often clashes visually with the selected chest piece?
A: Let me acknowledge that this is an ongoing request from the community and has been affecting a fair amount of the recent Costume Sets. We will look at what we can do to improve how this looks. There has to be something that we can do to make this look better than it does. Brad, (The Art Lead) is on the case!
VisionStorm: When will we get some skins for the Swinging travel power?
A: We are currently building our list for future travel power updates. Swinging is currently on the list of travel power upgrades and can potentially get upgrades like Vines or Chains. You've already shown us some great ideas, and we look forward to seeing more!
There are also other travel powers that we want to offer upgrades for. Flight is a pretty easy one but we want to get something for all of the travel powers… even TP. I'll leak some of the ideas, but please keep in mind these are just ideas at this point. Tornado (SS), Electric Arc/Bolt (TP), Swarm(flight), Vines (swing). There are more but I don't want to give too many away just yet
VitalityPrime: Is there any current plans or talks about the much asked about suggestion for the option to remove passive FX?
A: There have been no discussions about removing passive FX specifically but there has been plenty of discussion about how passive FX will interact with Auras. There are currently no plans to add the option to turn off passive FX.
Mothers_Love: Do you see a Champions-Online MMO eventually including more locales from the IP as full-zones?. I'm talking Shamballah, Well of the Worlds, Arcadia; the City of gold and Atlantis in-particular.
A: There is a lot from the IP that we want to be able to bring to you. As far as content goes, we want to be able to take you to a variety of locations and provide a story that is fun and compelling. Full Content Zones of IP locations is a bit of a stretch in this year and is not on the current 2011 release schedule. We are focusing on bringing you the Comic Series and some other really cool content that will surely make you feel heroic. I am going to be a little vague on that last bit for now. Discussion for a new zone could start later this year but I will say again I would rather get an endgame system and zone in before a new Content Zone.
Rom1: Any plans for the bugged pvp queue?
A: We are looking into the PvP queue issue. There are some cases where the queue sends out invites too soon and another that doesn't always send invites for solo queued instances like Crisis Zones. We have been looking at the system and making improvements to make the queue smarter. These changes need to be tested fully internally before they can go to PTS. Our hope is to have a solution soon that we can roll out to test then to LIVE.
Rom1: Lot of people (like me) said boss rewards sucks. Any plan to change something about that?
A: A rewards review is ongoing and will be rolled out in stages. Boss rewards are reviewed along with their content so if the reward for White Rhino (for example) is bad or isn't of high quality it will get reviewed with the Dr. Moreau Lair review. Recently we addressed an issue in the Serpent Lantern Adventure Pack where rewards were not in line with our expectations. This gained us better rewards from bosses and across the board in the Adventure Packs. We would likely take this same type of approach to reviewing boss rewards where we identify the shortcomings of the rewards and make adjustments accordingly. It would be great to get feedback on specific bosses, and we've created this forum thread for you to post your feedback in.
Gaelyn: When we will see the new KOTH pvp map?
A: I want to say that it will be on PTS in June. This of course may change but I think opening it up on PTS for a Beta in June is doable. I know Lucid is eager to get it out to you! Once it is ready to go to LIVE we will get it to you as fast as we can.
ryder22: Is there any plans for a Shared Bank?
A: An account bank is currently in the plan for Hideouts. The work is preliminary but I should know soon if we can make it happen for the Hideout launch. If we need to take more time on the shared bank feature we will but it will not hold up the Hideout launch.
Galeforce: Any word on an "upright" running animation for LS, SS and Acro, rather than the "ninja run" animation currently in place?
A: The earliest work can start on a new Run Anim is July. Our totally awesome animator has a few things to work on before a new run animation. The LIVE date will follow in house testing, PTS testing and a patch.
KoolZoid: I'd be interested in buying individual items from some Costume Packs, but not the whole pack – would you be interested in selling costume pieces on a 'per piece' basis in future?
A: At this time there are no plans to offer single or individual costume piece purchases.
Parfex: Any plans for "Aura" costume pieces, like overall glows or particle effects?
A: We want to get auras out to you as soon as we can. There are some concerns with how they will interact with passive and activated or applied aura FX and we need a UI solution for the application of the aura. We are currently looking at a Tailor option. Auras are not our top priority right now but they are "On Deck".
taekinuru: Any plans for an in-game voice chat thingie?
A: Yes, We plan on launching an in game voice chat system in June. You can hop on PTS right now and test Vivox out. Be sure to check the PTS forum for latest info on the feature and as always your feedback is greatly appreciated.
Sigma7: What can you tell us about how you plan to improve or encourage teaming?
A: This is a bit of a broad question but I will try to address what we are doing for basic teaming incentives. Currently we're reviewing the exp and resource bonus for teaming. This review is based on a number of tests at all team sizes and difficulties. Once the review is complete we'll make sure the current bonus makes sense and if it needs to be adjusted, it will be. We have to start at this level to make sure teaming is both useful and rewarding.