By admin @ August 31, 2011 at 1:29pm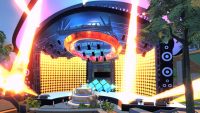 You're invited to come celebrate two years of Champions Online! Put on your party best and slip on those dancing shoes because this year you'll get to groove to the awesome tunes of DJ Madbot and Sapphire in concert!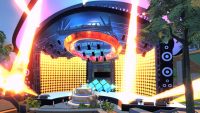 When?
Anniversary Event starts Thursday, September 1 at 10 AM (PDT) and ends Monday, September 5 at 11:59 PM (PDT).
Sapphire takes the stage in Ren Center every hour and DJ Madbot keeps things movin' all day and all night long!
Where?
Renaissance Center in Millennium City is party central!
Bosses in all major zones want to celebrate, too! Defeat them for a chance to receive Anniversary Presents.
Who?
The whole Champions Online: Free For All community! Bring your friends or stop on by to celebrate with your whole Supergroup entourage!
Look for Anniversary Party Hosts around Ren Center to get some swanky Party Favors, Unlocks, Missions and more!
What?
Anniversary Celebration Party Favors:
Gift Boxes, Party Bombs, Boosters, and more!
New to Year 2: Noise Visualizer Device! Was that a "Bam" or more like a "Pow?"
Anniversary Costume Unlocks:
DJ Madbot accessories – siren and headphones!
All that glitters… more sparkly shiny things for you! New Glitter Heroic Wear costume pieces.
New 2-Year Anniversary Perks and more!
Don't miss out – come join the Anniversary Celebration fun!