By admin @ September 1, 2011 at 10:10pm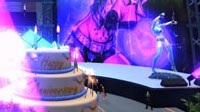 Happy Anniversary Heroes!!!
Time sure does fly when you fighting crime. Can you believe it's been 2 years? It really has been a lot of fun. We had an awesome time this past year and Champions Online: Free for All has been a huge hit. It's incredible to see so many New Heroes and Veterans keeping the villainous plots to a minimum. Let's get the party started and join in the celebration in Ren Center!
The summer has been a lot of fun here at Champs HQ. At the start of the summer season we set off to complete our first Comic Series "Aftershock", give your heroes a place to Hide Out, complete the long awaited review of the Telekinesis Framework and best of all get you inside a bubble helmet with the Retro Sci-Fi costume set. I am proud to say we hit all of our goals and knocked them out of the park.
Recently, Cryptic Studios was acquired by Perfect World Entertainment, which purchased us from our old owners, Atari. We couldn't be happier, and we're excited about this change in ownership! Perfect World is happy to add Champions Online: Free for All to its portfolio, and things are looking great. Under PWE, we'll be able to bring you more of the great updates we've been putting out, and continue to grow, and improve on, all the things that make Champs so much fun.
Let's take a look at Champs over the summer:
Aftershock wrapped up with Issue 6 and a fight that completed the Qliphothic Story Arc in a big way. Once all six issues were released we repackaged the Comic Series as one large mission chain similar to our adventure packs. "Total Aftershock" added new rewards and the comic panel treatment to the cut scenes.
Hideouts were long overdue and really came together through the passion of our super cool environment artist "TumerBoy".
Each Hideout offers a different feel that your hero can fit right into. From the Cave to the Moon there is something for everyone and with the Penthouse just around the corner all your Heroes can have that place in Millennium City to call their own.
Summer wasn't all about Aftershock and Hideouts. We added a lot of new customization options for your hero. The Retro Sci-Fi set was just one of the costume sets we were excited to get to you.
Three new Costume Packs
Two new Weapons Packs
Two new Travel Powers
Jetpack flight
New Gadget powers
New be-critters like the Djinn and Black Talon
It really has been a blast getting our summer updates out to you but we are not done yet. Just around the corner we have more customization options, content and more… MOAR!
Content Updates
Anniversary Event
Our 2 year Anniversary will kick off at 10:00AM September 1st. This time around we have pulled out all the stops and added a new center piece for Ren Cen and a bunch of really cool items. As with last year's Anniversary, this is a social event that should be a lot of fun for everyone. The Dev team will be taking part in the event and showing up from time to time to dance and party hard. It is really going to be a lot of fun!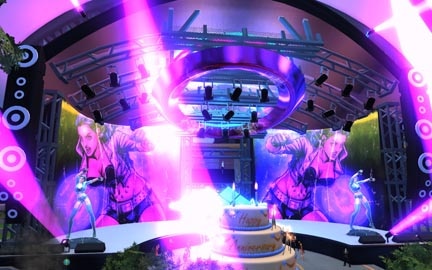 Lair Reviews (Update)
The Lair reviews have been delayed a bit but are going very well. So far we have taken a close look at Dr. Destroyers Robot Factory and Teleios Tower. For the most part there are no major changes required for these two Lairs but we would like to make a new boss fight for Teleios. We had planned to review two lairs a month but have decided on a different approach after taking a look at the current lairs up for review. We are going to make sure the gameplay of every lair is solid (bug fixes, scripting) and then take a look at the boss fights for each. The current Boss fights we are looking at are the Teleios and Andrith Ruins. Smaller improvements to Lairs will roll out along with regular updates and seem pretty small leaving the major changes like the boss fights to make a bigger splash. The Lair Queues are currently scheduled for 8/22.
In Development
Comic Series 2: Whiteout
Our second Comic Series sends you off to Canada to investigate mysterious signals interfering with Steelhead's communications. You are sent to investigate Argent, only to be interrupted by a spaceship crash landing nearby! As you investigate, you will battle aliens known as the Roin'esh, as well as uncover the secrets lurking beneath Steelhead.
We will be working on Comic Series 2 over the next few months Whiteout Issue 1 is schedule to release early November.
New Mini Arc
We are always on the lookout for areas that need a little more in order to ensure there are no gaps in missions and leveling or may need to offer a break to add a little variety. A new mini arc is in development to address a small content gap in Canada. This mini arc will start at level 22 in Renegade Run and take place on a portion of Pre-Crisis Vibora Bay. The Main contact in Vibora Bay is Black Mask and features Dead Man Walkin' and a mystery.
Alerts
The work on Alerts is going very well and we are ahead of schedule. Our first set of alerts is in the bag and features some IP villain groups that you are sure to know and love. To start with we have Red Winter plotting something explosive in the desert and GRAB has crashed a party on the Bayou Queen. This is just the beginning though. Over the next few months we will be working on a variety of Alert types and locations that feature some awesome heroic gameplay.
Here's what we have so far. I'll keep it short for now.
Alerts are team missions, and critters will scale to your level. There are four distinct Alert types that offer a different type of gameplay for each, one of which is Nemesis. Alerts can be replayed and there are bonuses for replaying an alert. Some rewards are linked to an alert type. Alerts are designed to be fun fast and heroic. Keep an eye out for more info on Alerts as we get closer to getting them on the test server.
Powers Updates
Unarmed Review
The Unarmed review is underway. As with the other power reviews there may be some new powers added to the framework along with some adjustments to balance and functionality . One thing we really want to add is new hand or palm strikes. There seems to be a lot of kicking involved in the unarmed set and we want to take time to get more strikes in. You can also look for a new Archetype to be released along with the review.
PVP
King of the Hill
The new King of the Hill PVP map is currently in test internally and on PTS. The participation and feedback has been great. We are targeting Mid-September for release and we are really excited to get this new map to you. Look for more scheduled playtests on PTS leading up to its release.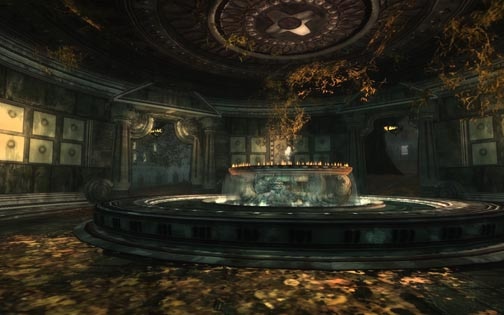 Acclaim Gear
We are currently reviewing the cost, quality and usability of the PVP acclaim gear and plan to roll out any changes along with the King of the Hill map. A cost reduction is the easiest thing we can do but after looking at the gear it makes sense to review the gear completely. Keep an eye out on PTS for these changes as well.
Nemesis
I wanted to take a moment to update you on our short term plans for Nemesis. While we don't have any new mission arcs or nemesis motivations on the schedule we are working to get Nemesis gameplay into everything from the Comic Series, and Alerts, to future events. The Nemesis system is really cool and we want to allow for more interaction with both your own Nemesis as well as your friends.
The Champs team is excited and dedicated to bringing you some really cool content and growing the game you love to play.
See you in the game!
Rob Overmeyer
Executive Producer
Champions Online