By admin @ September 15, 2011 at 4:58pm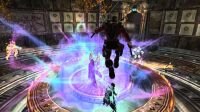 King of the Hill, our latest PvP game mode, takes you to heart of Vibora Bay's cemetery where you'll go head-to-head against an opposing team in a battle to win control of the mausoleum fountain.
Choose either the Archetype or Unrestricted queue using the PvP Queue system and team up with other players to fight and stand your ground! Through a new Determination buff, the assaulting team gradually grows stronger in damage and resistance (including Knock Back) as they try to prevent the opposing team from reaching the winning threshold of 7 minutes.
Check out our video to see this brand-new map and to learn more about King of the Hill PvP:
Do you have what it takes to become King of the Hill?