By admin @ January 23, 2012 at 3:19pm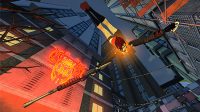 Greetings Heroes!
It's time to take a look at what's new and bit of what's next for Champions Online: Free for all.
A new year for Champs means a ton of opportunities to bring you more of what you want and continue to grow the game that we all love so much. There is a lot that we are working on and planning to bring you this year but before we touch on that lets take a look at 2011.

Last year, when we went Free to Play, the team worked tirelessly to get you something new and cool every week. Our longer term goals were to offer a different type of content update and launch some much requested features. We hit our goals out of the park only having something like 2 weeks in the year that didn't have something going live. We also released the Resistance adventure pack and 2 Comic Series' and while not a new zone, these new content updates had some of the best content to date for Champs. They also took your heroes to some darker places and offered some more serious content than previously offered. The dev team was very excited to bring you this change of pace and your excitement to play it was a great reward. If that weren't enough, we launched Hideouts and started a Framework that has been requested since early Beta. That's only a few of the things we were able to bring you in 2011. This year we have our sights set even higher.
Our latest update, live this last Thursday, saw the new Earth Power Framework and New Archetype "The Mountain" finally up and rumbling' around. One of the longest supporters of the Earth Framework got a chance to have his Heroes costume represent our latest Archetype. Roxstar has advocated for the Earth Framework for longer than anyone can remember and we are more than pleased to have his Hero be the example of such a rockin' power set. To compliment the new Framework we have also released a set of costume pieces you can also pick up as a reward from a daily mission or the C-Store.
But that's not all…
We also snuck in several updates aimed at improving the initial play experience and enhancing ongoing gameplay. As a new player or character you will notice several improvements to the Tutorial as you make your way to the Champions HQ. Our goal with this update was make it easier for everyone to hop in and have fun playing Champs.
Here are some of the highlights of the update:
Character creation and the Tutorial have been streamlined to get you started on your Heroes journey and helping the citizens of Millennium City faster than ever. While in the updated tutorial you will see an improved help UI and be introduced to some of the new game features.
New Players are added to a starting Super Group called the "New Champions" to make it easier to find other players to group with and kick some villain tail. You can leave the Super Group if you want or stick around and be there for other new Heroes. Check the roster and see who's on!
Finding your way to a mission has never been easier with the Minimap update. You will now see an arrow that point's to your mission and if you need a little more help, clicking the number next to your missions in the mission tracker will set that mission as primary and give you a navigation element to guide you.
Finding new missions and adventures are made easier with the improved Crime Computer and Remote Contacts. Just click the Crime computer Icon on the edge of the mini map and "Search for Emergencies". You will see a list of contacts that need your help. You can now get missions and turn them in from anywhere in the world.
Team-Up's have been added to Open Missions in every Zone. When you get to an open mission you will be able to join a Team-Up and be grouped with other players in that open mission. Team-Up's are temporary and don't break up your normal groups. This way you can team-up with other Heroes without leaving your regular group. We are really excited about the potential for Team-Up's as we look to develop more zone events that can utilize the feature.
Remote Training allows you to train up in the field without going back to the Power House. When you level up and get a point to spend on a new power or advantage you can train right on the spot. Of course if you want to try out the new powers before making your choice you can. Training at the Power House allows you to try all the powers available to you before locking in your choice. It will remain as the place to go for testing powers and builds but Remote Training is where it's really at.
Speaking of the Power House! We have updated the entire Power House to include a new Training Area, Duel Arena, Tailor and Costume Contest stage. Best of all, we have added several training videos that are available to everyone to watch and learn more about the ins and outs of Items, Powers and Stats. Stop by the new Power House in Ren Cen and check out the renovations. Be sure to watch the training videos while you're there. Just talk to the trainers, they'll set you up with everything you need.
January has been pretty big for Champs and there is a lot behind the scenes that we have been working on for some time. While finalizing those updates we have been planning on our next.
2012 is all about the foundations of Champions Online and building up a better game. Our focus is on improving every aspect of the game you love to play, and want to see become everything it deserves to be. That focus has helped build a vision but we need to look back a bit before we make the next leap forward. Our next major update will be aimed at addressing some of the core elements, the fundamentals of the game.
We are currently improving everything about items and rewards in the game. This includes a review of every item, reward, device, piece of gear, etc. you can find or earn in Champs. When complete we will not only have better items in the game that are desirable, but we will have a better itemization and reward system that can grow with the game. This update will also introduce a variety of new items and item types.
An improved item system cannot use our current crafting system so we are developing an enhancement system as a replacement. This system would allow you to further improve your items and offer greater character customization.
Alerts will also be launching in this update. These quick group oriented missions will make use of an updated Queue system and utilize the Team-Up feature to allow players to get into an Alert from virtually anywhere and get right back to their group when they are done. Alerts have several categories that are focused on a specific type of action, and include a special category for Nemesis.
There are, of course, more improvements and features that will go along with this large update and I'll talk more about that, but let's hold off for now. One thing is for sure, this next update will require a focus that leaves room for little else. It is because of this that Champs will be slowing a bit as far as C-store releases and smaller updates. We have a few things that will be going out, like costume sets and travel powers but not with the same frequency as they have in the past. Our attention and effort will be on getting these changes to PTS and in your hands.
In the coming weeks we will begin to roll these changes to PTS and will be looking for your feedback. PTS will be updated in phases and each update will be accompanied with information about what you can expect to see when you hop on PTS. Communication will be key while we work on this update so expect to see more discussions about the changes and more developer presence both on the forums and on PTS. We will also be working with the community team to make sure you have plenty of news about the changes.
The Champions Online team is dedicated to building up a foundation that can support a growing Super Hero game. The team is excited to get this next update out to you, so we can focus on some much larger goals, make Champs bigger and play the next chapter of Champions Online with you.
Thanks for being such a big part of Champions Online!
See you in game!
Rob Overmeyer
Executive Producer
Champions Online