By DwightMC @ October 31, 2013 at 11:29am
The Halloween Celebration in Millennium city continues with brand-new costume sets, available directly in the C-Store!
There's no better way to celebrate this spooky holiday than with Halloween themed costumes. We've added three new sets, plus a full set of Halloween masks and helmets.
Bone Armor Costume set

An intimidating and intricately-designed costume, the Bone Armor set covers your champion with a large bone chest plate and vicious sharp bone arm sets. This costume set is perfect for Halloween, and also intimidates your enemies by literally showing your victories in battle on your sleeve.
Cardboard Armor Costume Set

When you can't find a face mask, you use whatever you can find to conceal your identity. Dress up your hero in this classic Cardboard Box costume, featuring a paper bag helmet and a full-body cardboard set.
Feather Armor Costume

For you bestial heroes out there, this new Feather Armor set is the perfect accent for your champion's costume. Featuring a large beaked mask, a feather plume to go with it, and various feather accented armor pieces.
Halloween Masks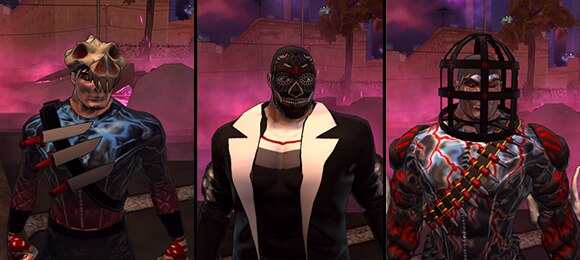 Finally, your Halloween costume wouldn't be complete without a mask, and the Halloween Mask Set comes with five of them! This set features 5 different masks and many different patterns to choose from.
The Kabuki masks come in seventeen different styles, perfect for matching your champion's costume. There's also a headcage mask, a dino skull and a plague mask if you want a more sinister look.
The new costume sets are available now on the C-Store for 475 ZEN each, go check them out!