By admin @ December 6, 2011 at 5:31pm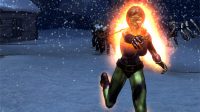 Q: How far off is the ultimate ninja set and new claws skins pack?
A: There is no release date currently set for these costume parts. However, they could see a release as early as March.
Q: Will already-released costume sets that have graphical/clipping issues ever get a review?
A: Some clipping issues will be resolved as part of our upcoming quality of life pass in the costume creator. However, minor clipping on some parts in certain extreme stances (beast run) or at extreme sizes (very skinny or very massive) is unavoidable.
Q: Are there plans to create more beast oriented sets in the future? We have Avian Warrior coming up but we are lacking certain basic heads. For example, a fox head is missing when we clearly have a fox tail.
A: We are very proud of the feral Werewolves in our recently released Halloween Creatures set, and there are indeed plans for more Beast themed sets. Following the Avian Warrior set, we will be working on concept for a feline-inspired set.
Q: Can we get more cape designs?
A: We'll look into including more cape designs with the next tights texture set.
Q: The Wizard/Fantasy/Magic Concept costume set debut with new emanation points? Ex: Wand, Staff, etc?
A: Our goal is to launch new emanation points alongside this costume set. Getting tech to line up with the launch may be tricky, but we are aiming high.
Q: There has been a great deal of "Dark" centered items debut recently, such as Dark Speed, Dark Aura, Aftershock Aura pieces, etc. Will there ever be something in store for those who prefer Light centered items? Perhaps Light Flight, Light Aura, etc?
A: Our Heroic Power flight was originally conceived as a form of Light Flight, and its trails remain similar in theme. Also, new Auras are in the works, so you may see something to suit you before too long!
Q: Are there plans to add "moar emotes"?
A: There are plans to add these, but there is no release date set. Our esteemed animator is currently working on a number of cool new powers for the Earth set! After that, she may have time for a few new emotes somewhere along the line.
Q: It had been stated before that a "Moar Tights With Skin" pack would be seen in the future, and had even popped up on the previous UNTIL Field Report, but was absent in Novembers. Is it still being planned, or was it replaced by the golden and iron age sets?
A: We do have more tights planned for the future, but we have to evaluate where best to slot these in our release schedule.
Q: Right now emotes are handled as that if I do not see a different player's emote start on screen, then when I see them they will appear to be simply standing. is there any possibility to change this?
A: We will put this on the list for investigation.
Q: Are there any plans to look at adding some of the current back pieces to be used in other categories other than just tights? Its getting cold out and I would really love to wear my Long Scarf with a jacket. >.>
A: We can investigate allowing the scarf to be used with a jacket. Apart from this, almost all of the back pieces are usable in any category.
Q: What about plans to move tattoos (and those sexy new spiral scars) to their own layer?
A: I'll assume you envision moving these elements to a separate, floating "overlay" piece. However, the tattoos and spiral scars are implemented as part of the texture on the chest geometry. As such, they cannot be separated into another overlay apart from the chest.
Q: Will we ever see more of the existing hair options become available with hats, and/or hoods?
A: We are taking a look at the character creator in the month ahead, with the intent of making some quality of life improvements. If any obvious omissions jump out at us, we'll rectify them. Recently, we did add some additional long hair options in the Hats category.
Q: Can I haz long dread locks?
A: Yes. We are planning to add more cosmetic options as drops or rewards throughout the game. Long dreadlocks can certainly be one of these.
Q: Will new stances be added besides the 4/5 (female/male) currently in game, i.e. like the zombie stance, a cocky stance, Morpheus stance, as well as many others like the ones from STO?
A: I would love to add more stance options, and we will be in the near future. However, we have no release date for these yet, as the Earth and Wind power sets take priority.
Q: Will any of the older beast head options be retro'd up to match the latest additions, like individually color-able eyes and such?
A: We won't be retro-actively updating any OLD Beast Heads at this point. However, we will be making and rolling out NEW Beast parts as part of upcoming sets. One of our artists has been working on the Avian warrior parts, and they look fantastic!
Q: Beast legs tend to be a sore spot for a lot of people, will these be getting a revamp anytime soon?
A: In the coming month, we will be working on addressing a number of quality of life issues in the costume department. I'll see that beast legs get a look.
Q: Will tails be getting a rework in animation, getting away from the Ritalin induced hyper activity and more like the STO variants?
A: This was not currently in our plans, but we can look into it.
Q: Will wand and staff weapon skins be a part of the Wizards costume set?
A: At least one staff will launch with this costume set, which will be usable as a Heavy Weapon right out of the gate. If we can, we'd like to launch this costume set alongside new emanation point tech which would allow powers to be emitted from weapons or wands. If that is the case, we will also include a few wands with the set.
Q: A year or so ago, Poz said it was not possible to do a Staff emanation point, but we've seen the HW set since then. Is it now more feasible to have a staff emanation point?
A: It is still currently not feasible, but it is planned as an upcoming feature. We've got some stellar programmers to tackle the issue, and we are looking into when we can schedule this for development.
Q: Much of the new content that has been added removes one from the open world environment, meaning that there's no interaction w/ players outside your team while playing it. Are there plans to add more content that takes place in the open world environment?
A: Absolutely, We are building content that is more event driven and encourages team gameplay.
Q: Any plans for the Foundry?
A: The earliest the team will start working on setting up Champs for the Foundry is late next year. We have some large plans for 2012. Although the foundry is live in STO, there is work that the system needs before it can work for Champs. Additionally, I want a few features that are in development to be complete before going live in champs. To be honest, I want the Foundry to be more that it is right now. We have some really talented folks working on the tools and I am excited to see the latest updates completed.
Q: Are there any plans for new nemesis content?
A: We are working to get more Nemesis content into the game any and everywhere we can but a new custom nemesis mission arc is unlikely. Instead we are focused on creating more oportunities for your nemesis to find you and attempt to thwart your heroic deeds.
Q: Are any other swaths of content going to get the west side treatment over time?
A: I would be surprised if the 21-40 content doesn't get a pass to clean up the flow and add additional stories. I don't have a timeframe because I think this is something that happens overtime.
Q: Are there any possibilities of some non-premium Archetypes being released, to hold interest for the Silver players and/or those who can't get C-Points to buy store goodies?
A: Adding a new, for free, premium archetype to the free AT list is not planned at this time. We have been working on offering a variety of ways Silver players can get premium Archetypes. The AT Rotation Promotion was a great way to get a feel for some of the other premium AT's. Being able to pick a new AT and change up the way I played week over week was pretty cool.
Q: Are there any plans to have more things available at 40 while this Endgame is being developed (since it's a ways off)?
A: In short, Yes! Alerts are right around the corner and offer every hero more to do each day. We are also discussing talents, improved end game loot and building the plan for Epic versions of all the lairs. There will be more to do.
Q: Would you consider merging Swinging and Acrobatics into a single TP to make them funner to use indoors and outdoors respectively?
A: This is an interesting idea. We would probably create a new travel power that is a merged version rather than just merge the existing powers. It would be something we would have to investigate.
Q: Will Cryptic be doing something about exposing Champions Online to the world? (i.e. Marketing)
A: There is currently a marketing effort for Champs and we are going to be doing more marketing going forward. Champs hasn't had much advertizing but that is changing.
Q: Will we get any Vehicles / Mounts?
A: We have a great proof of concept in the helicopters in Resistance and it looks great as long as you don't attack. As a non combat travel power it is not very hard to get a vehicle in game. As soon as you allow attacks everything gets a bit crazy. We have talked about this before. Vehicles could be implemented in 2 ways in the short term… Be critters or non combat travel powers. I have a feeling you would want it to be done right instead of fast. The other concern is what to do with so many very cool and differnet costumes. How does a giant monster alien robot clown fox with bubble helm look on a mororcycle? Is it ok that you can't really see the bike or that the character looks very off? Don'g get me wrong, the team really wants to get mounts and vehicles into Champs but there is a lot to work on and consider.
Q: Are there plans to add new missions to the current zones?
A: There are plans to add an arc to Monster Island to cover a potential gap in the standard mission progression of MON. There are also plans to add more content to every zone by way of large zone events, open missions and heroic events. While not standard linear missions each will add more to each zone.
Q: Excluding the Nemesis alerts, are there plans to add new Nemesis missions?
A: A Nemesis Arc is unlikely but more Nemesis content is in the works. I would't be surprised of you see or hear about your nemesis doing more in the game.
Q: How will XP gifting works?
A: The feature is complete and we are working on the final implementation and any restrictions it may need. There are a few things we need to test and work out before we can roll the feature out to PTS. This current implementation: You will have an item that you can right click on to fill with some of your XP. Once the item is filled with xp you can trade it to one of your alts. You will never downlevel by putting XP into a xpgift but you will see your exp reduce as you fill the item. We are currently discussing trading xpgifts to other players. If you have any thoughts on this I would love to hear them.
Q: Any design plans made for the upcoming zone yet?
A: Yes! It is too early to reveal the plan at this time but the design is nearly locked down. Once we have some more info and art we will be sure to share.
Q: When can we expect SG bases to come out or Hideout additions? (i.e extra rooms so the doors in the bases lead somewhere.)
A: I want SG bases next year and am really excited to get them in game. Hideout additions are in development now. TB has been working on both training and crafting rooms for each hideout.
Q: It was hinted that Crafted Travel Powers will get a review, due to devs (and obviously the community) not being happy of how they currently work. Will this review still be taking place? Is the Crafted Travel Power review part of "Crafting" rework?
A: I would say yes! The CTP's and how they are obtained will be reviewed as part of the Crafting rework. In fact the crafting rework design is in and all but locked down.
Q: Can we expect to see more new social locations, such as The Minefield, in the near future?
A: Maybe not in the near future but now that we know how much social instances are enjoyed we can start thinking about how we can convert some of our existing instances into social instances.
Q: Will we get more fun gimmicky devices added to C-Store like a permanant version of the Foxbat Foam Finger or Noise Visualizers?
A: There is a good chance that items like the foam finger and noise visualizers will be additions to the C-Store.
Q: Can you say when the ultimate ninja costume set will be coming?
A: Soon ™ – in all seriousness, Ultimate Ninja is in dev now. When it will release has not been decided.
Q: Are there any plans for a re-skin of teleport to come to the C-Store?
A: Yes! Recently we added 2 lightning teleport variants. I hope you picked them up cuz they are supah cool and Splosions did a great job on them!
Q: Will there be large scale team content (ie raiding) added in the future?
A: We are currently designing the next large scale zone event. This event will require a lot of people working together. The current design calls for an invasion of Millennium City.
Q: How will the aura system work (as it is currently planned)?
A: The Aura system is currently in the early design stages and we are discussing a ubmer of solutions. One idea is that you will get a new item slot, the "Aura" item slot, in which you can place aura items. These items can range from specific auras like hands or head to full body auras. The aura item will override your existing power aura if you like and can be swapped at any time.
Q: Will we see any of the new features from STO in CO (like the calendar, daily events, and other such items)?
A: Absolutely, We are building out our event system right now. When it is live, you will be able to log in, open the event calendar, and see what is happening from the hour to the week.
Q: Can we get villain groups as nemesis for our super groups?
A: This has been in discussion but we don't have a plan for it just yet. It makes a ton of sense that your super group have a nemesis group.
Q: Can the AT rotation program be a permanent thing?
A: The AT rotation promotion may come back from time to time but ther are currently no plans to have the system as a permanent feature.
Q: What can we expect of crafting in the future?
A: A new system will replace the existing crafting completely. It will be accessible, simple and allow for a ton of customization and item improvement options.
Q: Any chance we can get an open instance of WCOC so RPers can use it as an RP set, do interviews, work as newsjournalists in their secret IDs, etc. How hard would it be to create such an instance from a time and programming standpoint?
A: There is a good chance we can make this happen. It isn't hard but it needs to be scheduled.
Q: Can we get a couple of munitions sets says Rifles/Explosives and Pistols based.
A: While we have no plans to break up the Munitions framework in any way, it is very likely we will introduce more powers to the Munitions frameworks that work for either or both of those themes.
Q: Will the new Vibora Bay arc be given more quests and turned into a smaller zone etc? if not why not?
A: We have no plans to do so at this time. The mission arc was intended as a short intro to the zone, and to provide some variety in scenery while leveling up, but we don't want to create an entire second (well, third if you count Crisis…) version of the zone.
Q: Will the Innate Characteristics ever get a review to allow for combinations not currently available?
A: Yes, we have the list of all of the "missing" sets that will probably get added to the game… fairly soon.
Q: Have you guys considered a dagger powerset?
A: We've discussed one before, and it's something we could think about doing some day.
Q: Will you guys be expanding on the use of cosmetic shields?
A: We'd love to have more physical shields in the game, and have even discussed things such as a shield based framework. However, the way we'd like to implement it doesn't really work with our current implementation of several systems, most notably our weapon geo display system (the one that makes your swords disappear when you aren't in combat). We have been working on improvements to that system for some time, and if we get to a point where we'd be happy with an implementation of shields and shield powers, it would be something we would get on quickly.
Q: Are there any plans to punch up the existing critters with some more variety?
A: It's a large amount of work to overhaul all of the existing critters, but it is something we'd like to do. We occasionally make a fix or change to the way an existing critter groups powers work, and that helps, but a larger review of all of them would be a good thing.
Q: Care to share with us any equipment system changes you got planned?
A: Hmmm… not really at this time. We do have some fairly large changes planned in the not-so-distant future, and I'm sure we'll let you know all about them at that time.
Q: Speaking of balance. Stealth? That gonna get any retooling?
A: Stealth is a problem in the game, which we've discussed before. Being freeform, we can't balance around some classes having the power and some classes not having it, so if we make Sneak a truly useful power, then everyone will buy it. We've discussed several options to make stealth and Sneak be more than just thematic choices in most cases, but most of them have met with the same fate – why wouldn't I pick this power on every character I have? We've also discussed some options such as making Stealth only beneficial to say, melee characters, but then we are met with the sadness of "why doesn't it work for MY character?" and even still… does it mean EVERY melee character will now want this power? I don't think everyone wants to play a sneaky melee character. The other, slightly crazier option we've discussed, is to make Sneak into a Passive/Active combo power. This would allow us to make large balance changes to a character that takes Sneak, and potentially allow for gameplay differences for them as well. This is a pretty massive change to the way it currently works, obviously, and would require a lot of work for this one power. However, that doesn't mean it won't ever happen.
Q: Cryptic has invested a fair amount of time in Action Figures, I feel they are not that widely used as they could be. Is there any plans to make more attractive having action figures and collecting them.
A: Action Figures are filling the role they were intended to fill – a collectible, just for fun, non-combat pet system. We've discussed other, similar systems that would run along with the Action Figures and provide more gameplay to a collection game, but nothing we've decided to move on at this point.
Q:About pvp, there has been a bit of annoyance about AT pvp encounters were team sizes were different like 2vs4 or 2vs3. Is there any way to temporally buff the smallest team to counterbalance the team size differences?
A: I'd personally rather see a solution to mismatched team sizes, but this is something we can discuss as I don't know that we have a reasonable way to fix that problem without frequently making it take way too long to get a match for some people.
Q: t seems that there will be new ATs coming with each powerset review. However, will there be two or more ATs with the incoming Wind and Earth power sets?
A: In general, yes, we have been trying to do at least one new AT with each framework review. However, that won't always be the case, and we're planning on changing the way we develop Archetypes to be more thematic than just based on a framework relatively soon. We will most likely be introducing a new Wind AT and a new Earth AT with the new frameworks, though.
Q: Do you have any plan for some long-term-existing issues? For example: DoT damages / Maintaining powers are significantly underpowered to verse IDF or certain defensive passives. (especially in PvP)
A: Yes, we have plans for lots of long term issues. In general, they are not simple solutions, or they would have been done already. We frequently don't talk about those potential solutions, because sometimes they don't work, and we have to shelve the fix we were working on until we can come up with another one that will work. As to your specific question, yes, we do have a plan for changing DoT/Maintain interactions with flat absorb mechanics.
Q: . Some power sets such as Munitions and Gadgeteering have two Energy Builders. Is it possible for certain ATs (The Inventor, The soldier, The Specialist….etcs) to have a chance to pick up an alternative Energy Builder?
A: We discussed this, but as Archetypes are specifically designed to make getting into the game as easy as possible, having a power choice between 2 Energy Builders right when you make your character runs contrary to this idea. It's possible we could think about allowing you to change it at a later time (via respecs, for eaxmple) but we have no plans to do so at this time.
Q: When it was originally introduced, the plan for archetypes was to have two a month, but as it stands we've barely been making one a month. Are there any plans to introduce more monthly archetypes, perhaps by dipping into currently up to date power sets?
A: The intent was to release two a month for the first few months, to get a decent amount of Archetypes available, not to release two a month indefinitely. We already have quite a few Archetypes available at this point, and have no plans to increase the overall speed with which we release them at this time.
Q: When can we expect an overhaul on the different passives to bring them more in line with one another? Personal Force Field has been performing immensely subpar almost from launch, and the force pass didn't even address it.
A: We have a defensive passive review on the horizon. While I'm not setting a specific timeline here, I'd LIKE to see this review released within the first quarter of 2012. (Disclaimer: "like to" implies this may not happen.)
Q: The new Acclaim gear has recently hit Live, and I must say, thanks for providing us great gear! What is to become of Unity and/or Nemesis gear? When?
A: We have plans to revamp the gear for tokens system early to mid of next year. It is already in the works, but it will take some time before any of it will be visible to players.
Q: Can we get an update on the current Framework reviews?
A: Currently, the next framework review is going to be Power Armor, and it is still in the initial discussion phase. It won't be moving much beyond that until Earth and Wind are released.
Q: What is to become of Telepathy, Celestial, Ice, Archery, the more 'lackluster' sets? Will they be getting a review anytime soon?
A: All of our sets will get reviewed at some point. And then they will get reviewed again. While review speed may slow down after we've done all of them, I doubt it will ever stop.
Q: Will we see Clearance again this winter?!
A: Yes, and you'll be seeing more of Black Harlequin, as well!
Q: Will there be any kind of wrestling/grappling/throwing mechanics put into the gameplay? The kind where you pick up an enemy and throw them and a power set(s) that will center around this playstyle?
A: Not likely. The amount of tech required to make this look and feel good with our current system is rather immense, and probably not feasible.
Q: Are we ever going to see Crafted Travel Powers, Dark Speed, Bat Flight, and Scarab Flight ever added to the C-Store or will they remain Become Device / Crafted / Drop only?
A: We have plans for some of these (Bat and Scarab flight) but it's entirely possible that others could move to the C-Store at some point.
Q: After the earth and wind powersets are done will you be holding any sort of poll on the next new power?
A: We have some ideas already about what we'd like to do beyond these two sets, but it's possible we could hold another poll like we did before.
Q: Will we see set upgrades as part of the over haul in the near future?
A: "Near future" is nice and nebulous, so yes.
We do have plans to add gear sets to the game.
Q: When can we expect the new power sets (Earth and Wind) to be on test for previewing?
A: Yes, possibly before this question is actually posted to the website. It looksl like Wind will make it to the PTS before Earth, but we plan on releasing them to Live at the same time.
Q: Will Clarence get his voice back this Christmas? (In 2009, he said: "Hugs are fun, but smashing is better!", last year he didn't.)
A: I'll look into finding out why Clarence lost his voice.
Q: Are we going to get an update on the Framework Review schedule, or a greater Powers review schedule look at all?And what determined the current schedule order?
A: I'm not sure that we're going to release further upcoming systems design schedule at this time. While we are going to be continuing to work on framework reviews, we're also working on several new systems and larger overhauls that we are planning on releasing next year, but they are such massive tasks that discussing release schedules for them before they're ready to go to PTS isn't something we want to do. The current schedule was determined by several factors – some of the largest factors were: popularity of the framework (determined via datamining characters), viability of the current framework, and difficulty of performing the review. That last one is why Power Armor was later on the list than we would have liked, as it has a unique mechanic that is only somewhat supported, and we needed some additional tech to be able to fix it properly.
Q: Will the report a player to mute them abuse get fixed?
A: The ability to silence someone is under review. Any change to this system will make it harder to silence someone. If a group of players abuses this feature they should be reported to customer service.
Q: Will the way inventory is handled ever get looked at? I know you mentioned the issue w/ all bags closing will be getting looked at, but what about allowing us to resize the inventory windows or add some sort of auto-sorting options?
A: We have plans for the future to improve the inventory window and handling of items.
Q: Will the "Report Spam" function be looked at and/or removed, as there have been many cases of people abusing it to grief other players. At this point in CO's life, there have been almost no RMT's advertised in-game, so I think this feature should be reviewed.
A: This will be reviewed at the same time as the ability to silence someone in chat. It too will probably be changed to make it harder to abuse.
Q: Will the game ever be able to utilize more than 2 processor cores?
A: Improvements to the Champions Online engine to use more cores would be a very long term project and is not planned for at this time.
Q: The current chat system allows you to create custom tabs, but you must still switch between them on the single chat window. Are there any plans to allow us to create a new chat window and put specific chat channels in it like how CoX had?
A: There are no plans to change the chat UI to allow multiple windows as it is a large task.
Q: Could we get some chat improvements? No, not that Chat, the stuff that comes up for interacting with other players. Name coloring for easier read of high chatter volume… Multi-pane windows ALA CoX, multiple chat windows at once… I'm not sure how that other Chat can be improved.
A: The chat UI is not going to be reviewed in the near future.
Q: Is there perhaps a chance of allowing players to re-organize the order of their characters on the selection menu, and re-organize the order of their costumes in the tailor?
A: There are no plans to do either of these items at this time.
Q: Can we get it so the Nemesis bios we write to show up for anyone reading the nemesis's info?
A: This is on a list to get done but is a low priority item therefore it will not be done soon.