By TrailTurtle @ November 8, 2012 at 7:25pm

The battle against Dr. Destroyer heads to the sky in the new "Assault on UNTIL Sky Command" mission, launching on Friday November 9. Take your new vehicles into combat with this brand-new mission!
Dr. Destroyer's invasion of Millennium City may be over for now, but his master plan has only begun. UNTIL's Project Shiva division has worked for decades to foil Dr. Destroyer, and in doing so made it a prime target for his wrath.
The attack has come where it is least expected: far above the ground, striking against UNTIL's Sky Command aerial HQ. Reinforcements are en route, but Dr. Destroyer's robots will knock it out of the sky long before they arrive – unless you and your vehicles can stop them!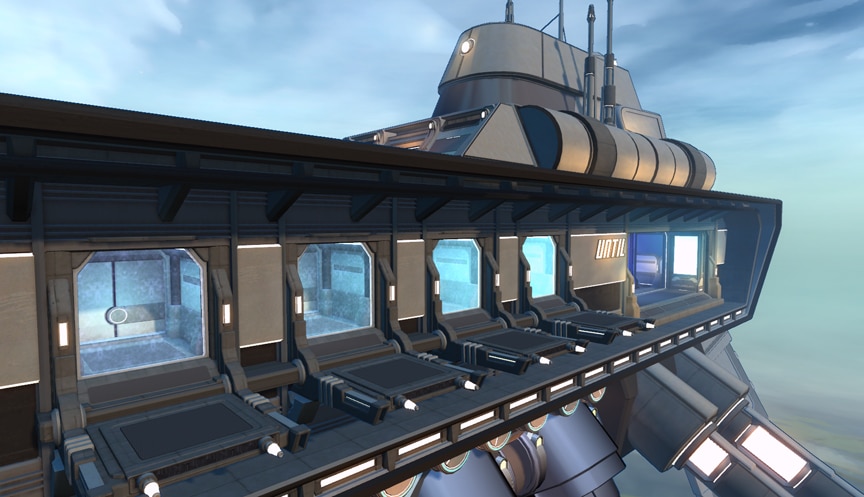 The UNTIL Sky Command is under attack by swarms of flying Destroids, and only your team of 8-10 heroes can stop them. This mission is available in a new queue UI that also applies for Hero Games, Lairs, alerts, custom alerts, events and other vehicle missions. Just click the golden fist on your mini-map to open the window.
You'll need to protect a number of objectives from the Destroids, including eight stabilizer engines and a main engine. Take to the skies in your vehicle, or with a provided UNTIL hover disc, and defend the carrier's engines and repair teams. For 15 minutes, you'll need to survive waves of Destroids – and if you thought you'd seen the last of the Mega-Destroids, you might be in for a surprise….
(Yep, that's Dr. Destroyer's ship off in the distance, commanding the Destroids' assault). Who knows what might happen in the future with that ship?…)


You won't need to save every engine – Sky Command can limp to safety without a full complement – but for every one of the eight engines you do keep in action, you'll get a vehicle support or defense MOD when you complete the mission. Just for completing the mission, you'll get a chunk of XP as well. In addition, if you can take down the boss, you'll earn a bonus five-pack of support/defense MODs.
There are also a few other tie-in missions, including a daily for saving Sky Command, worth 700 Questionite plus a pack of ten vehicle support/defense MODs. (Learn more about how to use these MODs in our customization guide.)
This is one of the best ways to get vehicle MODs, so when you find a group of allies who can help you keep Sky Command in the air, make sure you remember their names. This mission is appropriate for all levels, with enemy difficulty scaling to level just like in alerts.
This mission is live on Friday, November 9 with the launch of Champions Online: Reloaded. Rev your engines and load up on ammo, because vehicles are almost here!